Mounting Systems
Apart from the mounting and fixing materials we also can supply parts for the shuttering technology, as well as scaffolding parts.
For special requirements we are the right contact person. Regarding this it doesn't matter if the parts must be manufactured as casting or forging parts, we can supply the most items in both versions.
Furthermore we are able to supply different surface coating and paintings, as well as a high standard of white or yellow galvanization.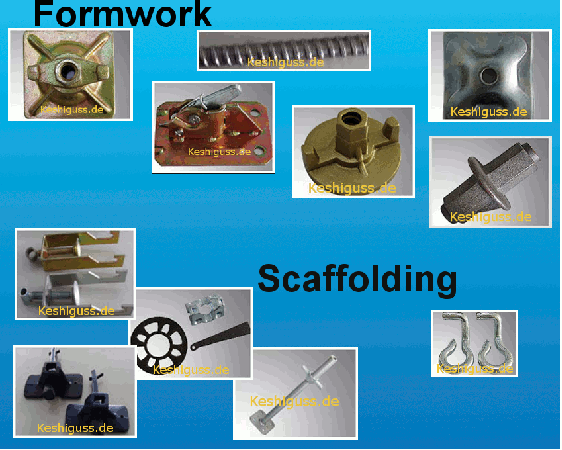 Shown Pictures are just a small overview.
Material and Achievements:
For our spare parts we only use high quality basis materials stretched from normal construction steel to grey cast iron, ductile iron or malleable iron components. By our long term experience on the Arabian markets, Singapore, Taiwan and the near European neighborhood we are now also able to supply high quality standards for the German market.
Also we are able to produce special parts for our customers according to their requirements. And also we can support our customers if they want to develop a new design for their parts or optimize the design they have for better manufacturing ways.
In the near future we will have a stock for some standard parts to meet the requirements of customers who need only a little amount of pieces.
We will gladly inform you about our stock level and the actual prices of the stocked parts at latest in the end of April#
Do not hesitate to ask us